It's no secret that Islanders like to boast about our winters. While it's true that our winters are typically a little more mild than other parts of the country, Mother Nature still delivers her fair share of precipitation. Don't let the rainy season dampen your spirits; there are plenty of great things to do, both inside and out, to ignite your spirit and satisfy your thirst for adventure!
Storm watching
No where else offers storm watching quite like the west coast of Vancouver Island. From Port Renfrew to Port Hardy, there are countless opportunities to catch the raw force of Mother Nature, pounding wave after wave against the rugged coastline. Suit up and stand back as 50-foot waves crash into headrock, sending seawater high into the sky. Or, stay warm, dry, and cozy in a private beachfront cabin or condo-style accommodation overlooking the water.
Storm watching is a great opportunity to sneak away to the Island for a little rest and relaxation. Because it falls within the region's shoulder season, it tends to be a little quieter and room rates are generally lower, making it easy to justify a weekend getaway even on a modest budget.
Alpine Skiing & Snowboarding
Vancouver Island has not one, but two great places to hit the slopes this winter. Mount Washington Alpine Resort, located just 20 minutes from Courtenay, is the larger of the two with 1,700 acres of terrain, five lifts, and four Magic Carpets, making it a great destination for the whole family. If there's anyone in the family who isn't so comfortable with the idea of skiing or snowboarding, the resort also has a great snow tubing park too. Once the season kicks off, the resort is open every day and has several places to stay on-mountain, or you can stay in Courtenay, Comox, or Cumberland to explore even more of what the area has to offer.
Mount Cain is located further north on the Island, approximately two hours from Campbell River. Mount Cain is Vancouver Island's community owned and operated ski hill, so while it's not as large as a common resort-style destination, it's one of the region's best-kept secrets. It offers five green and seven blue runs for the relaxed or inexperienced crowd, but it's abundance of black diamond runs and backcountry attract alpine enthusiasts from across the Pacific Northwest. Because it's volunteer-run, Mount Cain is only open on weekends (and the occasional Friday, too), giving snow base the chance to accumulate throughout the week. Every Saturday has the potential to be a powder day!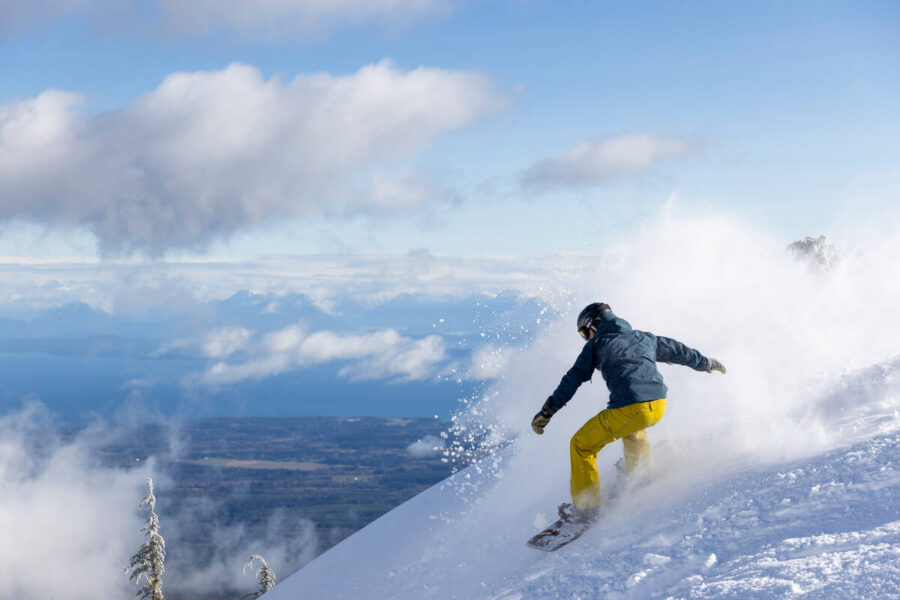 Cross Country Skiing & Snowshoeing
Whether you prefer a nice, smooth slide or a heart-pumping workout, the alpine regions of Vancouver Island have several scenic trails for all ages and abilities. At Mount Washington, you'll find over 55 kilometers groomed trails shared between the resort and Strathcona Provincial Park , all of which are well-maintained and include a variety of terrain for everyone from beginner to advanced. If you need any lessons or equiptment, the nordic center at the Raven's Lodge has you covered.
Caving
Caving is just as much fun, if not more fun, in winter than it is in the summer. Caves maintain an annual temperature of 8 degrees celsius, so in the colder months it can actually be more comfortable inside rather than out. Spelunking, the term used to describes caving, is mostly a dry activity but can get a little wet from time to time thanks to rivers running through the cave and small droplets forming from cracks in the rock. Horne Lake Caves, located about a half-hour from Parksville, has all the equipment you need to head underground. Their guided tours are a great way to spend a few hours learning about the area's geography and common cave formations. Whether you're a little timid of tight spaces or eager to explore every crevice, Horne Lake Caves has a tour for you!
Hiking & Mountain Biking
Regardless of the season, it's always a good time to go for a hike or ride a bike! There are thousands of trails in every part of the Island, from short and easy walks like the Kinsol Trestle in Shawnigan Lake to summiting mountain like Mt. Benson in Nanaimo. Once you set foot (or tire) on a trail, you'll get to know another side of Vancouver Island you simply can't find in the city. It's being surrounded by lush flora and fauna, with nothing in earshot but the sound of birds chirping and water dripping on the leaves, creating the most idyllic sense of peace and tranquility. Go ahead, chase waterfalls, find breathtaking viewpoints, and get a little dirty in the process.