A GUIDE FOR VANCOUVER ISLAND VISITORS
With vibrant emerald rainforests, formidable mountain ranges, and an ocean coastline that ranges from sandy beach to rugged walls of stone, Vancouver Island's natural riches and resources have been attracting visitors from the time the Europeans first arrived to trade with Indigenous peoples. A more modern cultural environment has brought a new wave of explorers in search of inventive locally-sourced cuisine, rich First Nations culture, and intriguing artwork.
Yes, Vancouver Island has become a destination more than ever, and the ways in which we explore it demand a more vigorous approach to keeping the island's resources sustainable, for both the people who visit, and the people who call it home.
We must become mindful travellers.
The 7 'Leave No Trace' Principles
As with all human endeavours, the golden rule ("Be cool to others as you'd have them be cool to you") sits at the centre of the Leave No Trace seven guiding principles. When in doubt, imagine how your actions impact both the work done before you arrived and the people who will come after you. We are all in this together.
1. Be Prepared.
Be aware of local regulations and any cultural sensitivities
Be ready for severe weather or emergencies
Schedule during quiet times (shoulder seasons or offseason)
Go in small (4-6) groups. It's fun and it's easier
Minimize waste: repackage food, leave the garbage at home
2. Leave it as you found it.
Look but don't touch: cultural, historic structures and artifacts
Leave rocks, plants and natural objects alone
Don't build anything: yes, that includes rock cairns
3. STAY ON THE TRAIL.
SLEEP ON HARD SURFACES.
Keep erosion at a minimum. Stay on established trails. Sleep at established campsites
Sensitive riparian areas include any land that borders fresh water. Don't upset riparian areas
Find good campsites. Don't make them
Use harder surfaces absent of vegetation to set up camp on
4. Be Cool To Others
Be courteous. Yield to other users while on the trail
Step to the downhill side of the trail when letting others pass
Camp away from trails and other visitors
Let nature's sounds prevail. Avoid loud voices and noises
Don't play music loudly
5. Keep Wildlife Wild
Observe wildlife from a distance. Do not follow or approach
Never feed animals. Just don't. Not even the squirrels.
Store food rations and trash securely
Control pets at all times, or leave them at home
6. Don't Be A Dirtbag
This one is simple: Pack it in, pack it out.
Once more, for impact: Pack out all trash, leftover food, and litter.
Bury solid human waste (AKA "poop") in holes 15 to 20 centimeters deep at least 70 meters from water, campsites, or trails
Wash dishes or your body 70 meters away from any body of water
Use biodegradable soap. Scatter dishwater only after you have strained food solids out of it
7. Keep campfires responsible
Use a lightweight stove for cooking
Use candle or gas lanterns for light
Where fires are permitted, use established fire rings
Keep it small. Only use sticks and deadfall that can be picked up and broken by hand
Burn all wood and coals to ash, and then scatter the cooled-down ashes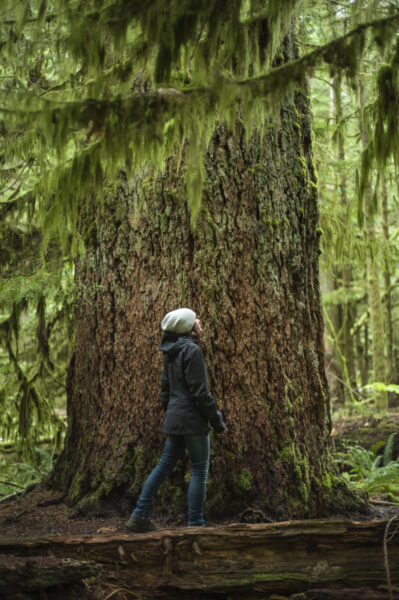 ---
The Eighth Principle
Since the advent of social media, increased pressure on destinations has occurred due to posting the specific location. When travelling, consider leaving the names and locations of specific sensitive areas private. When asked "Where is this?" in the comment sections, consider responding in a private message rather than posting on a publicly-accessed social profile, or politely responding that "The search is half the fun." Most locations can be found with very little effort by those who truly want to find them. A little foresight by Mindful Travellers means we can keep beautiful places as they are for future visitors.
---
OCEAN-FRIENDLY TRAVEL
Every ocean provides, but on Vancouver Island she provides just a little but more than most. Whether getting salt-kissed on the deck of a BC Ferries ship, or peering down at the Salish Sea from a plane's window seat, to witness the awe-inspiring Pacific Ocean is to know Vancouver Island's unique charm. The great big blue is a constant source of vibrancy for Islanders, and we aim to keep this water clean. We're committed to ocean-friendly practices and supporting ocean-friendly businesses. But what exactly is 'ocean-friendly'? It's simple. Ocean-friendly businesses and nonprofits execute business practices that support a clean and healthy coastal ecosystem.