WHAT DOES IT MEAN TO BE OCEAN FRIENDLY?
An incredible destination surrounded by the Pacific Ocean on all sides, Vancouver Island is the ocean. The ocean inspires our everyday. Regardless of why you choose to visit Vancouver Island, you pass through the ocean to get here. On the ferry, you travel across the water. On a plane, you get to witness the awe-inspiring view of the Pacific from above. Here on Vancouver Island, we live and breathe the ocean.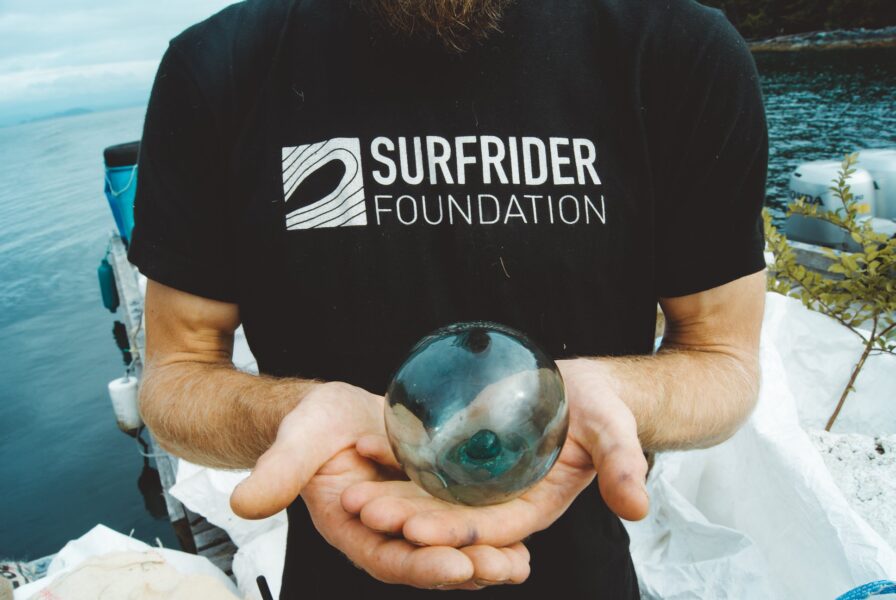 On Vancouver Island, we're committed to ocean-friendly practices and supporting Ocean Friendly businesses. But what exactly is 'Ocean Friendly'? It's simple. It's supporting businesses and nonprofits across the island who execute business practices that support a clean and healthy coastal ecosystem. Businesses who are Ocean Friendly are champions on eliminating single-use plastics, and work tirelessly to support and clean our oceanfront across island. Discover more on why being Ocean Friendly is such an incredibly important part of our community here on Vancouver Island.
Watch our documentary on the stewards of the sea, below.
Watch the video
How to Pack Ocean Friendly
For all the incredible visitors that Vancouver Island receives each and every year, we wanted to share a fun guide on how you can pack ocean-friendly. We hope that you consider this key list of Ocean Friendly alternatives to single-use plastic before your trip to explore Vancouver Island.
Here's what to bring:
Single-Use Container & Cutlery Alternatives: These items include reusable straws, water bottles, coffee thermos, food containers and cutlery. Opt for plastic-free alternatives such as items made with stainless steel, bamboo, or glass when possible. These are great to have for any takeaway food for trails and beach activities when visiting Vancouver Island.
Packable Reusable Shopping and Produce Bags: The first thing you may do when you get to Vancouver Island is stock up on groceries for your trip, and by packing your bags- you're already one-step ahead of being ocean-friendly. Many grocery shops on Vancouver Island don't have plastic bags available due to our regulations to limit single-use plastic, so be prepared. Opt out of produce bags when gathering your fresh goods, and instead bring your own or simply purchase them without a bag.
Reusable Toiletry Containers: If you're flying in, consider bringing your own reusable toiletry containers and opting out of any hotel provided products. Better yet- consider investing in products such as shampoo and conditioner bars, solid deodorant, and plastic-free sunscreen such as Avasol. Look for reef-safe labels if you plan on swimming in any natural body of water.
Natural fibre clothing: Did you know that 1.7 million tonnes of microfibres are released into the ocean every year from synthetic material? When travelling, opt for natural fibres such as wool, hemp, or linen to avoid contributing to microfibre pollution. Plus- they feel great and last a lot longer than most synthetic materials.
A mindset that will support pro-environmental behaviours: Vancouver Island is mesmerizing not just by chance, but because people have worked to protect it, including the Indigenous communities who actively contribute to the regeneration and biodiversity of the ecosystems of the island. It's essential to pack a mindset that will support you in leaving a positive imprint on this special place. Together we can slow down and be conscious of decisions and actions we take, and facilitate our learning on how to shift our culture and regulations to value environmental regeneration.
What to avoid purchasing:
When you arrive on Vancouver Island, consider avoiding the items on this list to keep your shopping Ocean Friendly.
Plastic water bottles: In America alone, over 50 million plastic bottles were purchased last year. However, only 23% of those were ever recycled. We have some of the freshest, cleanest tap water available and it's absolutely safe to drink for all. Avoid single-use plastic bottles, and instead fill a reusable bottle with fresh tap water. Trust us- it tastes better than drinking out of plastic. If you're a soda or juice fan, consider buying cans or glass containers to avoid single-use plastic.
Single-use bars: Granola bars, trail bars, and other single-use packaged bars are convenient, but a really good example of a single-use plastic item that's hard to spot. Instead, consider shopping in the fresh food section of a local farmers market and buying bulk granola with your packable produce bags.
Pre-packaged convenience food: We get it- when you're travelling, buying pre-packaged is often a much quicker and easier solution to purchase. However, consider avoid buying pre-packaged sandwiches, sushi, microwavable meals and other single-use plastic convenience items. Instead, shop fresh and buy food items individually without plastic.
Keep wildlife wild and tour responsibly: Vancouver Island has an abundance of tourism companies that offer everything from bear watching, surfing, whale watching and more. Ensure that the company you support is Ocean Friendly, and supports ocean-friendly non-profits that value the ecosystem that provides our land with an abundance of fun activities for travellers to partake in.
A CLEAN BEACH IS A HAPPY BEACH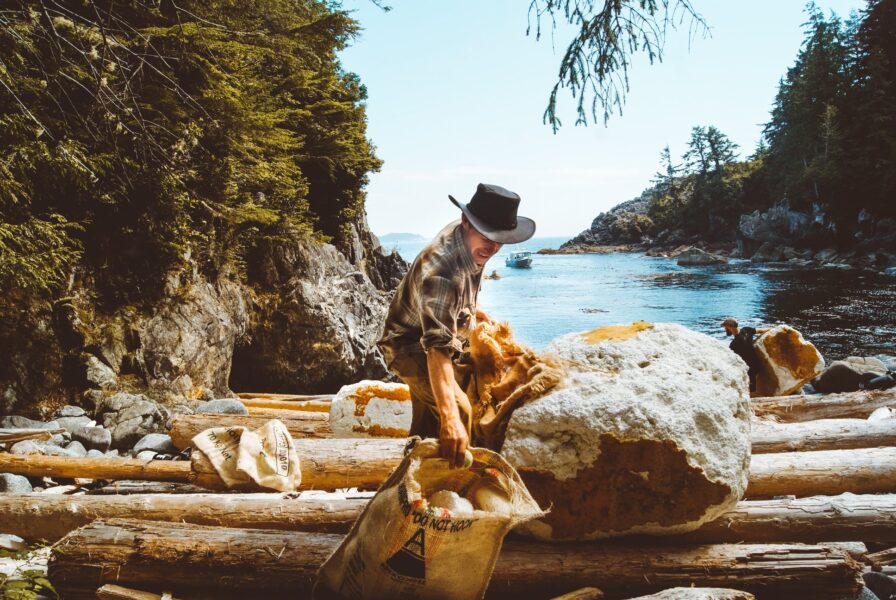 Why do people love beaches so much? Fresh air, open spaces and the naturally soothing white noise of crashing surf come to mind. All of these qualities are undermined by a trash-covered stretch of sand, and on Vancouver Island we are dedicated to keeping our beaches as pristine as we can. One way to stay ahead of the floating trash that is deposited on our shores, is to volunteer for a beach clean-up session, either on your own or with an organization like Surfrider Foundation. "Leave it better than you found it" is a great rule in all areas of life, and even more so on the beach.
How to have a beach clean up:
Go with your bubble! Cleaning up along the beach can be a great way to spend time with your closest, while keeping a safe physical distance from others.
Choose a section of the beach that's accessible to you. Going to remote or tricky to access areas can put search and rescue members at risk.
Pack the right gear: gloves to protect your hands, sun protection like a hat and reef safe sunscreen, water in a reusable bottle to stay hydrated, a first aid kit, and your clean trip kit. Learn more about how to assemble a clean trip kit.
Plan to be able to dispose of everything properly, according to local guidelines. As a back up, jot down the numbers of local contacts in case you come across something outside of your skillset.
Leave behind all the natural systems; kelp, driftwood, shells, rocks and the sand each play an important role in the inter-tidal ecosystem! The only beachcombing you should be doing is with plastics and garbage.
We'll never be able to clean our way out of the plastics pollution crisis. However, the data we collect during beach cleans is the first step towards tackling this issue at the source. By analyzing debris and tracking data, we can identify the roots of plastic pollution and advocate for systemic change. Use the Marine Debris Tracker App to log your data under the Surfrider Foundation Canada profile, so Surfrider can make cleanups obsolete through their programs and campaigns
To learn more about the Pacific Rim Surfrider Ocean Friendly program, visit their site where they share tips on reusable products during COVID-19, beach clean ups, and more practical tips for a mindful trip.