As a midway point between Victoria and the BC Ferries terminal in Swartz Bay, Sidney might not capture your attention. But this quaint seaside community has a lot going for it.
To discover its lovely secrets, one must cultivate a sense of curiosity. Your reward? Idyllic and secluded beach access, interesting museums, fewer crowds at attractions, and yes, easy proximity to BC's Capital City, Victoria.
Here are ten things you might not already know about beautiful Sidney, BC:
Getting Around Is Easy!
Sidney is a five-minute drive to the Swartz Bay terminal, which offers direct ferry service to Vancouver. There's also service to Washington State via the state ferries from Sidney's downtown harbour. Flying? The airport is located five minutes west of the city. Heading south, you're 30-minutes from downtown Victoria. With its central location, Sidney makes a natural hub in which to explore the Saanich Peninsula and Greater Victoria area.

Butchart Gardens is located 15-minutes from Sidney
For many visitors to the South Island, Butchart Gardens tops the list of attractions to see. With more than 55-acres, 900 bedding plant varieties, 26 greenhouses, and thousands of blooms, this internationally recognized garden makes for a full day trip if you're staying in Victoria. From Sidney, however, it's an easy drive that avoids main routes, making the 20-minute trip all the more enticing. With less driving time to contend with, you can pick quieter times of the day to visit. Don't forget to check out Tod Inlet, an overlooked but lovely inlet tucked out of sight behind the gardens.
Sidney Is Closer To Most Prime Whale Watching Locations
To most, seeing a whale in its natural habitat is the experience of a lifetime. Capturing a glimpse of the graceful tail of an Orca gliding through the water or a dramatic full body breach by a humpback whale is an iconic memory. Expectations for whale tours run high and balancing considerations of time and money is important. Enter the Sidney Advantage. Located strategically in the middle of resident Orca whale feeding grounds, Sidney is 30 minutes less travel time and 30 minutes more "whale time," meaning you'll have a better chance at admiring these majestic creatures.
It's Filled With Independent Bookstores
Sidney residents must share a love of the written word as evidenced by the town's numerous bookstores, all located within a few blocks of one another. Each bookstore offers something different, from new titles to children's classics and rare and antique works. Spend a day poking in and out of bookshops, then treat yourself to a coffee and a snack at a nearby cafe. Need some ideas? Visit the Sidney BIA website for a full list of restaurants.
Photo by Kelsey Goodwin
You Can Fish or Crab Right Off the Pier
In Sidney, crabbing and fishing aren't just reserved for deep sea fishermen and women. The local pier, located right downtown, is a great place to try your hand at dropping traps or line. This spot is popular with locals; purchase a license and grab supplies at the Home Hardware in town and join the throng. Catches must comply with fisheries regulations. Even if you don't walk away with a catch of the day, it's a great way to pass the time. But first, be sure to pick up a one-day fishing licence for just $5.51 if you're a Canadian resident which you can apply for here.
You Can Meet The Resident Octopus At The Shaw Centre for the Salish Sea
The Shaw Centre for the Salish Sea is one of two interactive and immersive aquariums on Vancouver Island. (The other, the Ucluelet Aquarium, is located a five-hour drive away.) The aquarium is Canada's only aquarium dedicated to the marine life-rich Salish Sea. Educational and informative, the centre combines live aquarium habitats, including a touch pool, marine mammal artifact displays and Coast Salish art.
Photo by Kelsey Goodwin
It's Home To The Award-Winning Victoria Distillers
If your idea of a good vacation involves food and drink, you'll be pleasantly surprised to learn that Canada's only oceanfront distillery is found in Sidney. Victoria Distillers occupies a prime location along Sidney's oceanfront where the distillery produces a number of spirits. Tour the distillery and learn about the production process, then head to the on-site cocktail lounge to sample classic staples. For more inventive drinks, the bartenders will often experiment with new cocktail recipes.

You Can Explore The Peninsula By Bike
If you're staying in Sidney and want to see as much as you can, why not rent a bicycle? Take a ride along the waterfront and cruise between cafes and restaurants as you let your palate explore the many flavours of Sidney. If you're eager to go a little farther, take a spin along The Flight Path: a 9.3-kilometre paved multi-use path outlining the perimeter of the Victoria Airport. This leisurely trail is mostly flat, making it a casual ride for most skill levels.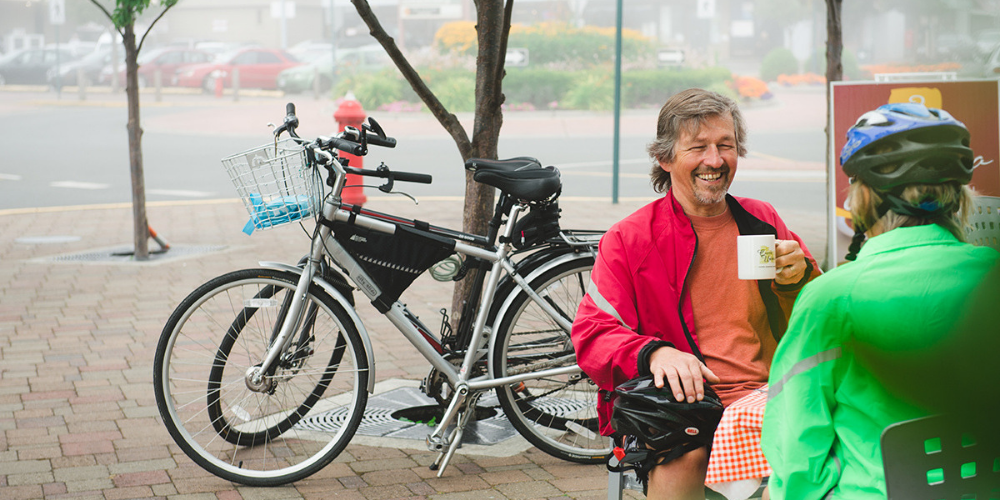 Photo by Kelsey Goodwin
The City Has Strong Ties To The Days Of Prohibition
Sidney is a wholesome place to visit, but many (guests and locals alike) are unaware of its underground, rum-running operations. For years, during the prohibition era, local pirates made good use of the city's proximity to the U.S. to craft a sneaky transport route for moving alcohol across the border. While the prohibition on alcohol has long since been lifted, the town has commemorated its rum-running past with a pirate statue of Jake James at Beacon Park. It makes for a great place to snap a selfie!
Learn about the history of the area at the Sidney Museum, then indulge in a bevy or two at the Rumrunner Pub".
You Can Easily Access The Iconic Sidney Spit In The Gulf Islands National Park Reserve
On the South Island where beaches reign supreme and every local has their favourite, Sidney might just claim the best. (Contentious, we know.) Sidney Spit, on the Gulf Islands National Park Reserve, is a sandy narrow strip of land that stretches into the sea like a long outstretched finger. This crowning jewel of white sandy and shallow, cerulean blue water is only accessible by boat or kayak. Camping is available and worth it to spend the extra day soaking up the natural beauty of the area.
You can access the park by hopping on a short and scenic, 25-minute ferry ride departing from the Beacon Pier. Brings snacks with you as there are no amenities or services until you return to Sidney. For more information about the ferry service visit " AlpineGroup.ca" .
Whether you're stopping for a few hours or a few days, Sidney is the perfect way to kick-start or cap-off a trip to Vancouver Island. For more information and to start planning your visit to Sidney, visit the Sidney Business Improvement Area website.