Just off the West Coast of British Columbia, islands with magnificent trees, white sand beaches, and an abundance of wildlife wait for anyone adventurous enough to discover them. The enchanting Broken Group Islands consist of more than a hundred independent islands, scattered throughout the calmest waters of the Pacific Ocean.
There's only one perfect way to explore the Broken Group and that's by kayak. Kayaking through the Broken Islands allows visitors to glide through waters that often resemble glass, immersed in the serenity and beauty of one of the world's most splendid destinations.

A Day Trip to Explore the Broken Group Islands
Hello Nature Adventure Tours makes a kayak trip to the Islands an unforgettable experience, as guides take care of the logistics and guests can simply soak up every second of their adventure. Tours are available for every skill and fitness level, and Hello Nature is known for their remarkable day trips.
Guests of Hello Nature Adventure Tours meet in Ucluelet, an adorable fishing village just 40 minutes south of Tofino. The day trip kick-starts with a 30 to 45-minute boat ride, and it's not long before the Broken Group Islands greet visitors with its breathtaking shorelines and endless opportunity for new discoveries.
"We have multiple drop-off and pick-up locations, so the weather determines where we go for the day. Some days we can go on a straight, diagonal trek and cover two-thirds of the park. Other days, we improvise," said Kevin Bradshaw, Head of Operations for Hello Nature Adventure Groups.
After a quick, thorough kayaking lesson and a review of safety procedures, guests launch their kayaks and begin their journey. A Level 3 sea kayak guide leads guests through the serene waters, navigating the breathtaking maze of small yet mighty islands.
The Broken Group Islands is one of the only places near Vancouver Island where visitors can enjoy natural white sand beaches and calm ocean waters, courtesy of the surrounding land that shelters Barkley Sound.
Guests may discover natural sea caves and other geological delights, while guides share the important history of local First Nations culture. More than 350 archaeological sites remain throughout the islands, including past village sites and fish traps. These sites offer guests a glimpse into an ancient culture that thrived off the gifts of the land and sea, and still exists today.
"The Broken Islands have a history that's between 4,500 and 8,500 years old. The Tseshaht First Nation people have been living here since that time. One of the biggest bonuses of this tour is being able to get out there and share that cultural history," said Kevin.
Wildlife is abundant in the Broken Group Islands, and guests may spot seals, sea lions, otters, eagles, mink, and too many shorebirds to count. The intertidal waters closer to shore are rich and thriving ecosystems that include colourful sea stars, crabs, anemones, and fish.
Whales are also known to migrate through the Broken Group Islands. Lucky kayakers may catch a glimpse of a gray whale from February to April, or a humpback whale from May through September. Playful pods of transient orcas occasionally drift in and out of the local area, leaving a lasting impression on those fortunate enough to see them.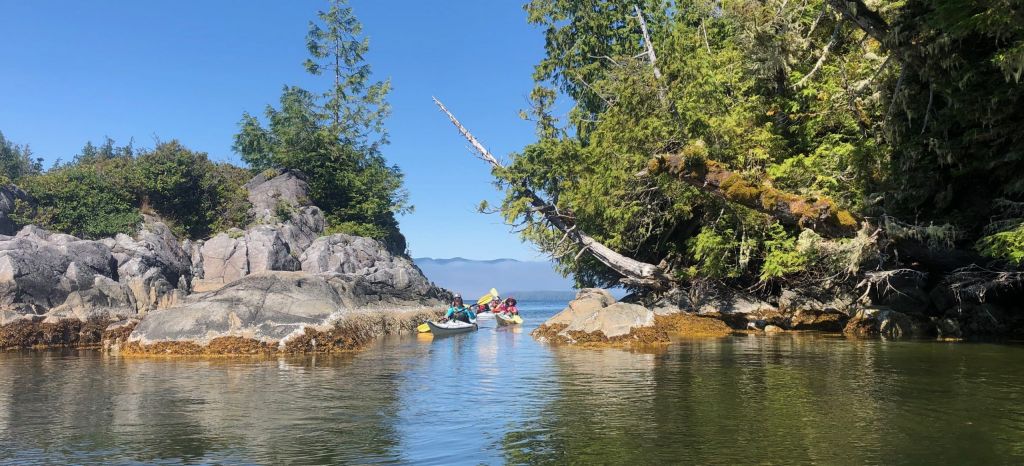 An Experience Custom-Made For The Guests
Hello Nature Adventure Tours puts guests' needs first and foremost. Guests set the pace for the day tour, which allows for ample breaks in the water and on the shore. If the group needs a break or wants time to explore an area, the guide makes it happen.
"There's always a beach five minutes from where we are," said Kevin. "If we need a break, there are landing spots everywhere."
After a couple of hours paddling in the morning, guests disembark on the nearest secluded beach for a leisurely lunch break. Hello Nature provides the meal, which is prepared by one of Ucluelet's high-end restaurants. Guests with dietary restrictions are encouraged to request modifications by simply notifying Hello Nature of their preferences at least one day before the tour.
When all guests are adequately fed and rested, the group returns to their kayaks for another couple of hours to explore their stunning surroundings. As the day of adventure concludes, Hello Nature's guests are picked up by boat and returned to Ucluelet to unwind in comfort.
"Where else can you get on a boat, go to one of the number one paddling destinations in the world, and then come back to sleep at a hotel?" said Kevin.
If a single day trip simply isn't enough, Hello Nature also offers multi-day excursions that include nightly accommodations in local hotels.


An Award-Winning, Local Ucluelet Business
Hello Nature Adventure Tours was founded by Kevin Bradshaw, who already had 14 years experience in the tourism industry, and Phill Padghams. Kevin previously worked for another kayak tour company until it was put up for sale three years ago. Rather than purchase the company, Kevin decided to launch his own business where he could take the best parts of his existing tours and then make additional improvements.
"We strive to provide a higher level of service than anybody else and it's been reflected by us winning awards for travel and hospitality throughout the world," said Kevin.
Hello Nature Adventure Tours has a solid 5-star average on TripAdvisor, with 99% of the reviews rating the company as "Excellent."
Part of the secret to this success may be Kevin's unique competitive advantage: he teaches Level 3 guide training for The Sea Kayak Guides Alliance of BC, which is required to lead kayak tours in the Pacific Rim National Park, and then he hires the best of the guides he trains.
"I just take the cream of the crop. During my guide training, I get a good insight into who someone is and can hire the absolute best," said Kevin. "There's only 30 to 40 Level 3 guides in all of Canada, and we have five of them on our team."
With the best local guides, unparalleled training, and a stunning location, it's little wonder Hello Nature Adventure Tours has become such a respected host of the beckoning West Coast.
Call 1-844-706-2751 or visit www.hellonature.ca to book your next adventure!