Known as the Gateway to the Wild West Coast, Port Alice provides crowd-free access to prime fishing and recreation areas such as Alice Lake, Spruce Bay, Side Bay, and Gooding Cove. Thirty minutes off Highway 19, this seaside community at the end of Neroutsos Inlet is situated in a pristine wilderness setting. The sheltered waters of Neroutsos Inlet are perfect for kayaking, scuba diving, wildlife viewing, fishing and prawning. Witness the abundance of wildlife: eagles, bears, sea otters, sea lions, orca and humpback whales. The Village of Port Alice offers overnight accommodations, a full-service campground with RV sites, a golf course, soccer and baseball fields, restaurants, grocery store, convenience store, gas station, liquor store, Legion, post office, RCMP and a medical clinic.
Things to do in Port Alice
Peaceful Port Alice attracts fresh-air enthusiasts craving crowd-free access to the great outdoors. Perched on a pretty hillside that provides everyone a "million Dollar View" of Neroutsos Inlet, this thriving community is the most southerly access point to Quatsino Sound, the spectacularly beautiful ocean inlet that cuts deep inland and gives kayakers, scuba divers and sports fishermen access to the open Pacific.
For avid golfers, Port Alice also offers a challenging golf course at the Port Alice Golf Club. Fuel, groceries, restaurants, public washrooms with pay showers, a laundry facility, and a sani-dump facility can all be found in Port Alice.
Kayak the protected inlet and explore the Frigon Islands
Watch for sea otters, Pacific harbour seals, and abundance of sea life!
Grab a coffee and sandwich at the Foggy Mountain Coffee Co.
Fish off the community dock
or launch your boat to explore some amazing fishing opportunities including Salmon, Halibut, prawns and crab.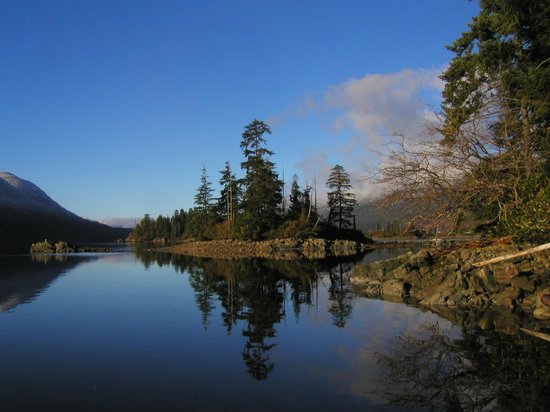 Explore walk-out island
Time the tides right and explore walk-out island, accessible only at low tide at the end of the sea walk.
Take a swim at Alice Lake
(Link River) and explore the Alice Lake loop – Devil's Bath, Eternal Fountain and more.
Hike the Marble River trail to Bear Falls
The Marble River Trail, a 4.2-km hiking and biking trail, provides access to the river for visitors, who come to watch the salmon spawning in the fall. Interpretive signs along this trail offer information about the forest environment. Salmon spawning viewing areas are located near the trailhead and at Bear Falls, approximately 2/3 of the way down the trail. An interpretive sign and fish ladder are also located at Bear Falls. Visitors should be aware that black bears frequent the park, especially during salmon spawning season.