Cowichan has long been revered as a Vancouver Island's culinary destination, especially for craft beverages. If you're a fan of libations in all forms—fermented, roasted, steeped, corked or bottled—you'll want to read on.
Here are the best places to wet your whistle in the Cowichan Valley:
Hop On Over To A Few Cowichan Breweries
The Vancouver Island Ale Trail has much to offer beer lovers—and you'll find many of them located in Cowichan or close to. In Duncan, you can tour three craft breweries within easy walking or cycling distance: Red Arrow Brewing, Small Block Brewing and Craig Street Brew Pub.
Red Arrow is located in a converted motorcycle shop in a red brick-and-ivy covered building. The self-serve courtyard and patio area is the perfect spot to spend a sunny afternoon. Likewise, the Craig Street Brew Pub has an outstanding patio on the third floor, that's perfectly shaded for those hot summer days.
Small Block Brewing is the newest brewery in Duncan and pays homage to car culture as evidenced by their converted garage location. Their relaxed and breezy approach translates into a brewery ambience that feels like hanging out in your friend's cool basement—only with better beer.

Further up highway 19 in the quaint town of Chemainus is Riot Brewing. Riot Brewing was founded in 2016 by best friends Ralf and Aly, Riot has a family-friendly tasting room and a giant, dog-friendly, sun-drenched patio. The brewery offers a stellar lineup of mainstay beers, including World and Canada Beer Cup winners, plus pizza from Brentwood's Bicycle Pizza. Regular events include live music and trivia — even a pop-up barbershop. Life's a Riot!
The newest brewery to enter the Cowichan brew scene is Bayview Brewing in Ladysmith. Ladysmith has long been well known for its picture-perfect main street and famous cinnamon buns, but Bayview Brewing provides another great reason to detour off the Island Highway: delicious beer and a top-notch food menu in a comfortable, family-friendly tasting environment. Entering with a bang, Bayview took home some hardware at the 2022 BC Beer Awards, placing 2nd in the Belgian Ale category for their Blanche Devereaux Belgian Blanche, and honourable mention for the Nannie's Toasted Coconut Raspberry Tart Sour.
Cruise Through Cowichan Cideries
Craft cider is having its moment in BC, but in Cowichan it's been around since 1999. Merridale Cidery was the first estate winery license on Vancouver Island, and until recent years, the only producer in BC turning out this delicious, bubbly, fermented drink.
Since their humble beginnings, Merridale has added to their orchard, with a gastropub and eatery, a bakery (with goods made from cider leaven) and a small batch distillery where you can sample gin and other spirits.
Newer to the area is Valley Cidery, which is situated on a 27-acre apple farm and surrounded by creeks flowing with clear spring water and hills filled with wild botanicals and berries—elements serving as inspiration for their cider varieties. From dry and off-dry blends to rose and lavender-infused cider, their line-up is a welcome addition to the fruitful offerings of Cowichan.
Take A Tour Of Cowichan Wineries
While there are seventeen sun-dappled vineyards in Cowichan (it is home to Canada's warmest mean temperature) the wines here are characterized as cool climate varietals.
Larger estate wineries like Blue Grouse, Unsworth and Averill Creek have been lauded for their excellent portfolios. Unsworth's Pinot Noir Rose was touted as the best in BC  by the well-regarded sommelier Jason Yamasaki. Blue Grouse Winery has some of the most awarded wines from the region; try the single varietal Ortega or Pinot Gris for a taste of Cowichan in a glass. And don't miss Averill Creek's Pinot Noir grapes, which yield a beautiful result; this varietal is the winery's most popular.
Other wineries in Cowichan may be smaller but they're storied: Divino Winery's owner and winemaker Joe Busnardo, a native of Trevisio in Northern Italy, was the first to introduce vinifera grapes to BC by way of the Okanagan first, then Cowichan.
(For a complete list of wineries in Cowichan, along with a map, visit Tourism Cowichan.)

Drench Your Palate at Cowichan Distilleries
Besides the aforementioned gin at Merridale Cidery, you can find spirits at two locations: Ampersand Distilling Company and Stillhead Distillery. Ampersand was founded by a father and son duo and are located on a five-acre organic farm. Their gin has won accolades and can be sampled in their tasting room (note: plan ahead, the distillery tasting room is by appointment only). At Stillhead Distillery, sample vodka made with wild blackberries or sip on fruit-infused digestifs. Don't miss a behind-the-scenes tour with distillery staff where you can check out the process for making vodka, gin, brandy and whiskies.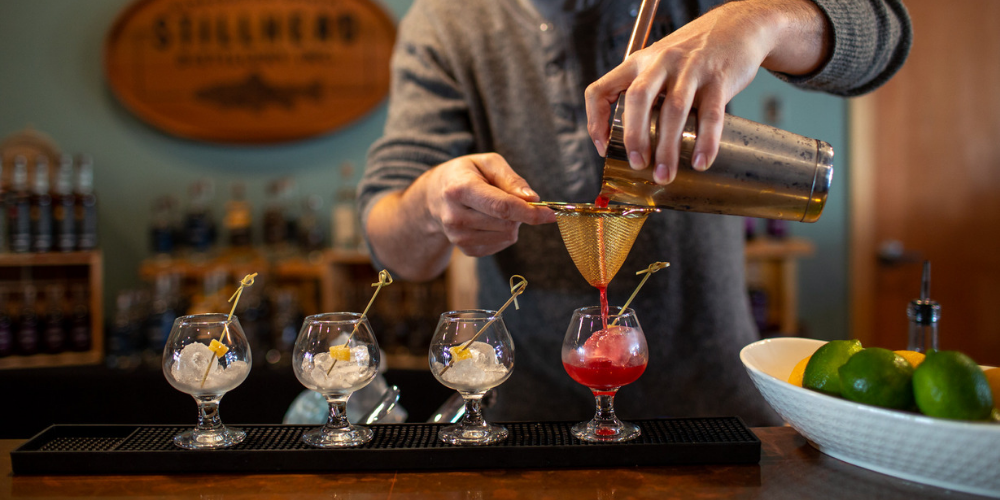 Tea and Coffee
Roasted and steeped. The last two methods of drink but they're no less deserving. For many, coffee is a ritual and those that seek out good beans will be rewarded at Drumroaster and Peaks Coffee, two local roasting houses that can be sampled in Cobble Hill and Duncan, respectively.
For an experience truly steeped in the culture and terroir of the Cowichan, a visit to Westholme Tea Farm is a must. As Canada's only commercially grown single origin organic tea farm, the farm, tea room and art gallery blends old-world traditions from Japan and Denmark (ceramics) with a new take on tea, serving up a wide variety of creative loose teas and tisanes.
For more on Cowichan's offerings, and activities and accommodation to plan your visit, check out Tourism Cowichan.