Out here, there's nothing to think about except dipping the next paddle—and maybe lunch, if you've been out on the water for a couple of hours. It's this disconnection that brings so many to Spring Island, guests more than happy to hop in the van for the 4-5 hours to Fair Harbour and cross through the Kyuquot Sound via water taxi.
The water taxi is dropping off passengers as we arrive, and when asked if they enjoyed the trip, they were washed over with an eagerness to share their trip highlight: "we watched wolves eat a sea lion carcass". Already the expectations were set high for our basecamp adventure, and while no one said it aloud, we all scouted from the seats of our water taxi for our own sighting of the elusive creature. Of course, we would have to be patient about our wildlife viewing and hope that the West Coast would deliver on our trip.
On The Water
Straight out from the tips of our kayaks floats a raft of male sea otters, arms and elbows tucked together like young friends, but they're not linked together to play. This is a survival technique, a method of protecting themselves from predators and anchored in the waters. I knew nothing about sea otters before this trip, but our knowledgeable guides armed us with so much history and many facts about the species that I left a proud sea otter advocate.

We tread, or paddle, south of the rising and falling onyx heads, respecting their boundaries and staying at least a couple hundred metres away. Our guide Meredith lets us know that the sea otters are wary of kayakers more than they are of motorized boats, likely because our long crafts and a center passenger strike a resemblance to the dorsal fin of an orca. A few of the densely furred heads dip down, while others bob and look on with their permanently curious faces, waving their own paddle-esque feet just out of the surface of the rolling ocean.
These marine mammals only occasionally go to shore, when the air is warmer than the ocean waters, or if they're having a hard time giving birth. They're crafty too; often keeping the same tool their whole life, holding them in the hairless palms of their hands like a little prayer for the next sea urchin snack or tucking them into a fatty fold of their underarm, while wrapped snug in their self-crafted quilt of bull kelp.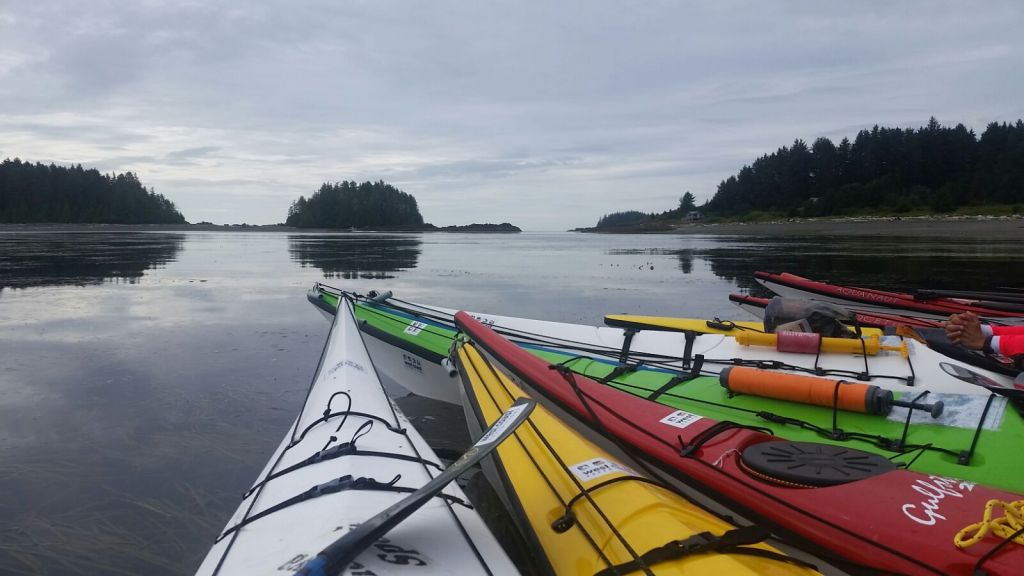 A Wolf in the Wind
Scanning the shoreline, eyes peeled and straining to spot any differentiation between the kelp, sand, and tree line, we had parked ourselves in the waters just downwind of the now famed sea lion carcass, and while there was plenty of strong scent, there was no movement. It was the second time we paid the area a visit, after one guest requested a short detour before heading back to Spring Island.
Just as we had resigned to the fact that we would not be graced with the sight of coastal wolves feasting on a sea lion, like the travellers before us had, my partner, sitting in the front seat of our two-person kayak, lowers his paddle, raises his pointer finger and says "it's there."
Twisting to see around him without capsizing, I still don't spot anything for a few seconds, until out of the trees lumbers a reddish, tawny wolf. It's smaller than I expected, and is clearly enjoying having the beach to himself.
Almost on cue with the wolf comes another wind gust from the rotting sea lion, so we mosey the kayak away from the draft, angled to the beach to watch the wolf as it saunters down the sand.
It stops for a stretch, lounges in the sand for a short nap, then makes its way over to the carcass for a snack. This wolf is in no rush to eat the sea lion, and has clearly been enjoying the luxury of such a bounty.
At Basecamp
West Coast Expeditions offers a few kayak adventures, including a four-day basecamp and a longer expedition style excursion.
And on Spring Island, the forest has taken over. Tall sitkas and expansive cedars reclaim formerly trodden road beds and a navigation signal station from the war, leaving just a few concrete slabs and a centuries old trail that connects the camp to the exposed western side of Spring Island.

Within the doors of the large canvas tents, guests' sleeping arrangements offer the much-needed respite after a day of paddling: wooden beds with mattresses, camping lanterns, side tables, and even a magazine or two for your down time. Each canvas tent is tucked along the heavily treed shoreline, barely visible from the beach but right under the night stars.
With no service and certainly no Wi-Fi, the camp is the site of a much more meaningful connection with the surroundings and your fellow paddlers.
To book your own trip to Spring Island, head over to WestCoastExpeditions.com.
Written by Tourism Vancouver Island social media & content specialist Hannah Grant. Photos by Kevin Smith & Hannah Grant