Within one hour of the city of Campbell River there's enough to do to keep you happily busy for over a week. The city and surrounding area are a snap to reach, especially with lots of direct flights on major airlines to Comox, a short 45 minute drive away. And even Victoria is just over a three hour drive away. From a trip to the Courtenay – Campbell River area in the summer I would suggest these 10 things to do.
1. Visit the Elk Falls Suspension Bridge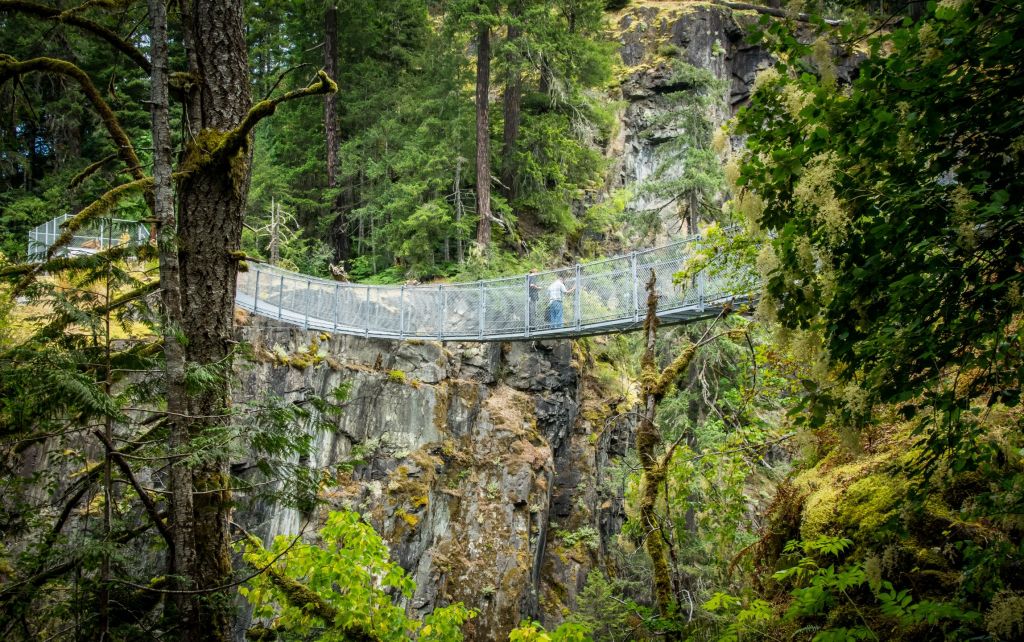 It's a short, easy walk through the forest to the Elk Falls Suspension Bridge and cantilevered viewing platform from the parking lot in Elk Falls Provincial Park – located just 10 minutes by car west of Campbell River. The falls themselves are a magnificent sight, plunging 25 metres to reach the Campbell River and gorge. While not everyone loves the airy feeling on a shaking suspension bridge, this is the best place to view the gorge. Don't miss your chance to stand in awe of massive Douglas fir trees while exploring a network of trails in the park on foot.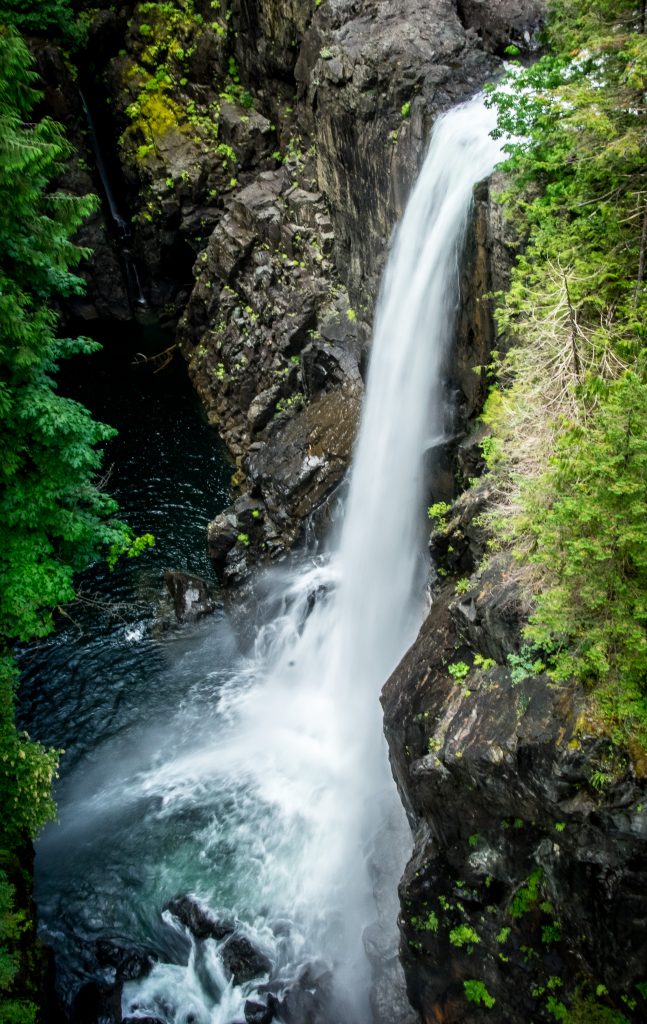 2. Visit the Haig-Brown Heritage House in Campbell River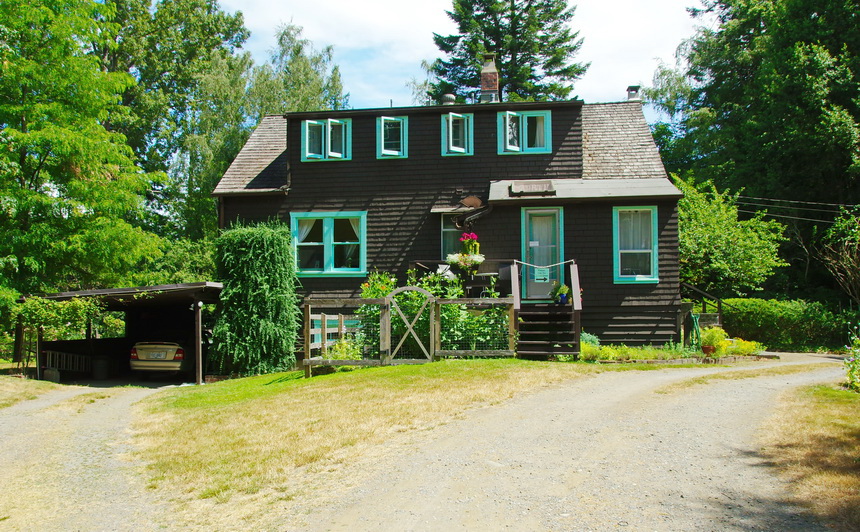 It took me three times of driving past the Haig-Brown Heritage House to figure that this pretty house was actually the museum I was looking for. Because it's also a B&B it can be a bit confusing. Believe Google when it's giving you directions.
The 1923 home is the former home of Roderick Haig-Brown, a well-known conservationist and environmentalist, writer and magistrate, and his wife Ann Haig-Brown who is credited for helping rape victims in the area and founding the first transition home for women in Campbell River. Haig-Brown was a prolific writer, penning 25 books and over 200 articles that have "influenced fisheries biologists, ecologists and countless others interested in the evolving relationship between people and nature."
For six months of the year the house is run as a B&B with the library the spot where you go to hear the stories about Haig-Brown and to view his extensive collection of books. A writer-in-residence has the use of the house for the other six months.
You don't really book a visit – you just show up and hope someone is around. Check out the website to get updated information on the time of the annual Haig-Brown Festival, the memorial lecture and the weekly tea and croquet parties.
3. Check out the view from the Mount Washington Scenic Chairlift
Enjoy a scenic 15 minute ride on Mount Washington's scenic chairlift from approximately mid-June through until late September. The chairlift takes you to the summit at an elevation of 1,588 metres where on a clear day you can see all the way from the Strait of Georgia to Mt. Baker in Washington. If you're feeling energetic you can elect to walk back to the base. Or, if you're in the mood for an adrenaline rush, you can rent mountain bikes and explore the great selection of all-level alpine trails, with the pedal-free convenience of lift access to the top!
4. Walk the Discovery Pier in Campbell River
Located in downtown Campbell River, the 180 metre long Discovery Pier offers superb views of Discovery Passage, lots of people watching opportunities, at least on sunny days – and easy access to some excellent recreational fishing. You can even buy a license and rent a rod and tackle from the concession on the pier. Finish your visit with an ice cream cone.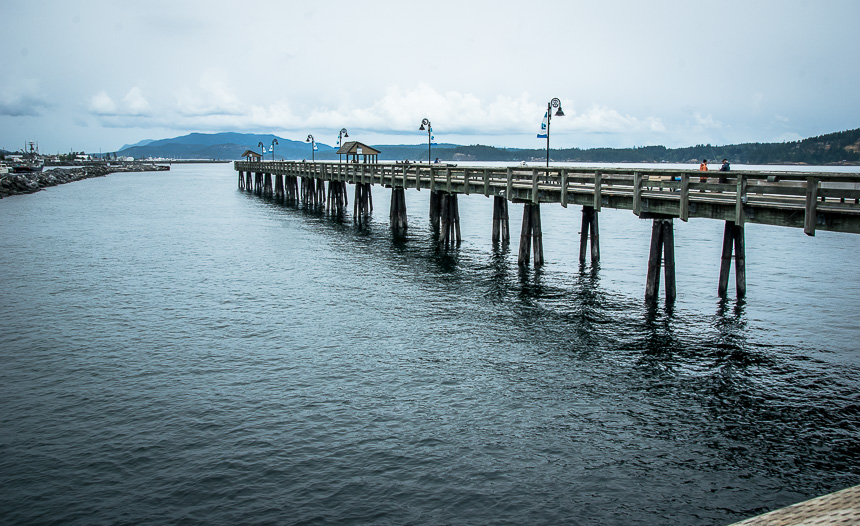 5. Visit the Discovery Passage Aquarium
If you're visiting Campbell River with kids, don't miss a stop at the Discovery Passage Aquarium for a hands-on educational and fun experience. Learn about the marine life and habitats in Discovery Passage from spring until fall every year.
6. Go salmon fishing
Did you know Campbell River is the salmon fishing capital of the world? It's easy to hire a fishing guide at Painter's Lodge and to go out for half a day or more. Even if you don't catch a thing (I didn't) it's fun to bob on the ocean looking for whales and seals while enjoying the west coast backdrop.
7. Take a Marine Wildlife Tour
Want to see what the area around Campbell River and the Discovery Islands looks like from a boat? Sign up for a three hour family-friendly marine wildlife tour leaving from Painter's Lodge. You'll see everything from bald eagles to whales, seals and sea lions.
8. Take a Fossil Tour at the Courtenay and District Museum & Paleontology Centre
If you or your kids are into fossils and dinosaurs you must visit the Courtenay and District Museum and Paleontology Center. You can see the actual specimens of the Puntledge elasmosaur discovered nearby in 1988 by a father and his 12 year old daughter. If you want a hands-on experience of looking for fossils sign up for their three hour tour. They run twice daily in the summer and via pre-registration from March to May and September to November. The tours start at the museum with an introduction and video before heading out to one of the fossil sites along a local river, just 10 minutes away. And yes you're allowed to keep any fossils you find.
9. Discover the Comox Valley on a Bike
If you want to slow down and experience the Courtenay area by bike, sign up for a tour with Island Joy Rides. They can provide bikes and then a local's perspective of the area with plenty of food stops to showcase the region.
10. You have to eat
I had a couple of standout meals while in the Campbell River area. In Campbell River, try Dick's Fish and Chips for an authentic west coast experience, replete with fresh fish like halibut and cod, not too greasy fries, mashed peas and coleslaw. Then go for a long walk! The restaurant is directly across from the Discovery Pier.
At the Atlas Café in Courtenay the globally themed food with plenty of nods to the west coast (salmon, mussels and tuna) is so beautifully presented you may hate to ruin the dish.
Guest Blog and all images by Leigh McAdam of HikeBikeTravel.com.