Written by guest blogger Lori Henry, of LoriHenry.ca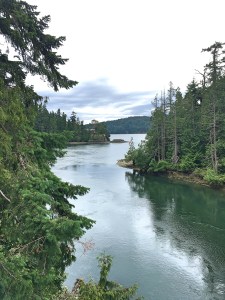 I hadn't been to Pender Island for nine years, but on a recent trip there I realized that not much had changed. Pender is actually two islands: North Pender Island is the entry point for most people at the Otter Bay ferry terminal, with the "downtown" core located at Driftwood Centre near the middle of the island. Other than some new additions being added to Driftwood, all seemed as it had been nine years ago.
On the quieter Southern Pender Island – of which almost half is part of the Gulf Islands National Park Reserve – the main attractions are Poets Cove Resort & Spa, where I was staying, and Mount Norman, a hike up to the best viewpoint on the islands.
Hiking Mount Norman and Beaumont Trail
I set out to climb Mount Norman on a rainy Thursday morning from the Canal Road entrance (the other entry, at Ainslie Point Road, is a bit steeper of a route). 25 minutes of mostly gentle incline and I was up 240 metres looking over Bedwell Harbour to the southern tip of North Pender Island and onto Victoria and Mount Douglas on Vancouver Island.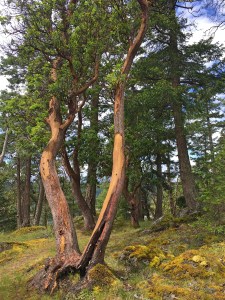 Continuing on the trail, I descended to meet the Beaumont Trail, which skirts the edge of the park looking down on Bedwell Harbour. The forest changes here: beautiful Arbutus trees spread their large, auburn trunks and mossy rocks seem to grow out of the ground. I walked to the end of the trail, which finishes at a campsite, and headed back to the park entrance on Ainslie Point Road. (A total of 2.5 hours.)
Wine and Cider on Pender Island
My post-hike reward was a glass of Blanc De Noir rosé, made on-island by Sea Star Vineyards. I had heard about this particular wine from my best friend and was excited to see what all the hype was about. It also won the 2014 Gold & Best Rosé award at the Northwest Wine Summit. And for good reason: the rosé was light, with hints of strawberry, cranberry and rhubarb; fruity without being too sweet.
Although they were closed while I was on Pender, I also want to mention the newest addition to the drinking scene: Twin Island Cider. Near Driftwood Centre on the north island, their tasting room has ciders made from apple trees on the island, as well as from other Gulf Islands, Vancouver Island and Keremeos. If you're on-island on a Saturday, you can find them at the farmers' market.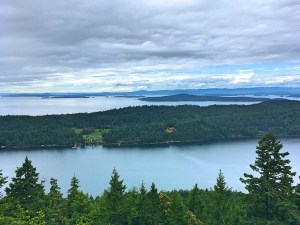 Every Saturday, the Pender Island Farmers' Market takes place between from 9:30am to 1pm. Here you can find Twin Island Cider, along with the many farmers and artisans who produce goods for the islands.
Accommodations on Pender Island
I stayed on the south island at Poets Cove Resort & Spa. This high-end accommodation has waterfront rooms with private balconies, a wonderful spa with a eucalyptus steam cave, two restaurants and a café, and direct access to a marina where you can rent kayaks or moor your boat.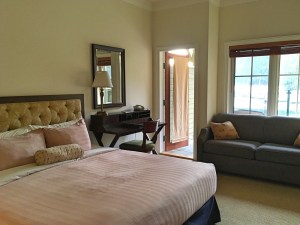 Pender Island also has many B&Bs, cabins, campgrounds and retro airstreams you can stay in, that are scattered all over the north and south islands.
Follow Tourism Vancouver Island on Facebook, Twitter, and Instagram to start planning your trip to the Vancouver Island region.